Apparently, getting "kwiffed" feels like catching a glass before it hits the ground or watching your wife give birth to a baby that turns out to be a grown man who's better than you in every way.
I know what you're thinking…what the hell am I talking about?
Well, I'm only half sure. The whole "Kwiff" thing comes from an ad campaign run by the Kwiff sportsbook, a mobile-focused sportsbook. The idea is that you can get a random odds boost on a bet you've already placed—an interesting if somewhat gimmicky feature.
Kwiff Casino is the online casino part of this site. It's one that seemingly hasn't been advertised as extensively and doesn't have any gimmicky features, but at first glance, it's a decent mobile-first online casino.
In this review, I'll take a deeper device into Kwiff Casino and see if it is as unique, interesting, and memorable as the brand's advertising campaigns.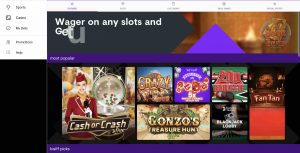 Bonuses and Promotions
The Kwiff Casino Welcome Bonus promises up to 200 Free Spins on Book of Dead when you "wager on any slots". If you look a little closer, you'll see that it promises 40 Free Spins per day for 5 days and seems to imply that these are available with your first deposit of £20 or more.
In actual fact, you need to deposit and wager £20 every day to qualify for the 40 Free Spins being offered that day. It means that you actually need to deposit and wager a total of £100 over your first 5 days to qualify for those 200 Free Spins.
A few players have complained about these terms and Kwiff Casino has replied to some of them, noting that they are very clear and there is no trickery involved. I agree with both the players and the casino. On the one hand, the casino is clear. Not only are there detailed terms in the T&C's, but the promotional materials don't explicitly say that you will get 200 Free Spins with a £20 deposit.
At the same time, however, these materials don't clearly state otherwise, and considering that it's more common for casinos to offer successive Free Spin bundles after a single deposit, it's easy to see how so many players are making this assumption.
Confusion aside, my main issue with this bonus is that it's just not good enough. 200 Free Spins is not a great offer considering you need to deposit and wager £100 to get there. It rules out people who only deposit £10 at a time and less than £20 a week, and it's a pretty poor return compared to what you can get at 888 Casino, Foxy Games, and other top sites.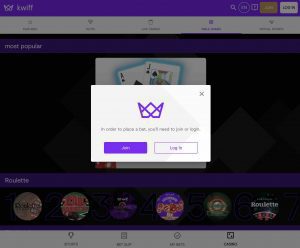 Games and Software
Kwiff Casino has an attractive aesthetic. It's clearly made for mobile, but it also looks good on desktop. Unfortunately, there are a couple of niggling mistakes that prevent it from being a truly special site in this department.
For instance, when you have yet to sign up for an account, the site forbids you from seeing the slots section. You can click on the Live Casino, Table Games, and Virtual Sports links. There are no issues there. But if you try to see the slots, a pop up will tell you "In order to place a bet, you'll need a join or login"
Bear in mind that I'm not on the sportsbook. I'm not trying to place a bet. I'm not even trying to play slots. I just want to see what's available before I join. After all, why would I join an online casino without knowing anything about its slots?
Upon joining, you'll be greeted with a decent selection of slots from top providers, including Microgaming, NetEnt, and Yggdrasil. It's not the biggest or best that I have seen, but there's a little something for everyone (progressive jackpots, Megaways, video slots, bonus slots) and that's what matters.
The table games are all standard and aren't anything you haven't already seen a million times while the Live Casino titles are provided by the excellent Evolution Gaming. You can't go much wrong with that.
Deposits and Withdrawals
Kwiff Casino accepts PayPal, Visa, MasterCard, and ecoPayz, among other payment methods. There is a low minimum deposit and withdrawal of just £5 and it doesn't charge any fees. Withdrawals are processed relatively quickly and without hassle and while you will need to verify your identity first, that usually happens automatically.
Make sure you enter your details correctly and if you're on the electoral roll, you should be automatically verified.
Verdict: Kwiff Casino Review
Considering that Kwiff built its reputation on the idea of the supercharged "kwiffed" betting feature, it would have been nice to see something equally innovative on Kwiff Casino. Unfortunately, there isn't anything that truly sets it apart from every other casino out there. Even a unique bonus would have been a welcome addition, but instead, we get a somewhat disappointing one.
On the whole, it's a good site, but it could have been so much better.
Pros

Mobile-Friendly
Live Chat Support
Sportsbook Available
Jackpot Slots
Evolution Live Casino
Cons

Poor Bonus Terms
Limited Welcome Bonus
At a Glance
Owner: Eaton Gate Gaming
Platform: Mobile-First
Payments: Debit Cards and E-Wallets
Minimum Deposit: £5
Licence Holder:
Eaton Gate Gaming Limited
Licence Number:
44448
There are no reviews yet. Be the first one to write one.