The Buzz Bingo brand is owned by Caledonia Investments, an LSE investment trust. It owns over 90 bingo halls across the United Kingdom, all of which were once branded as Gala Bingo clubs.
In 2015, Gala was acquired by Ladbrokes, which became Ladbrokes Coral, before being purchased by GVC Holdings (which then became Entain) in 2018. However, the bingo clubs weren't part of this deal and while they initially continued under the Gala name (under license from Ladbrokes Coral) they eventually rebranded as Buzz Bingo.
The rebrand is said to have cost Buzz Bingo £40 million, but it resulted in a very distinctive brand that has held onto its massive market share, with a community that spans over 1 million players.
Buzz Bingo is licensed by the UK Gambling Commission and has won multiple WhichBingo awards, including 4 awards in 2020 for the Best Bingo Site, Best Playtech Bingo Site, Best Bingo Chat Team, Best New Bingo Game.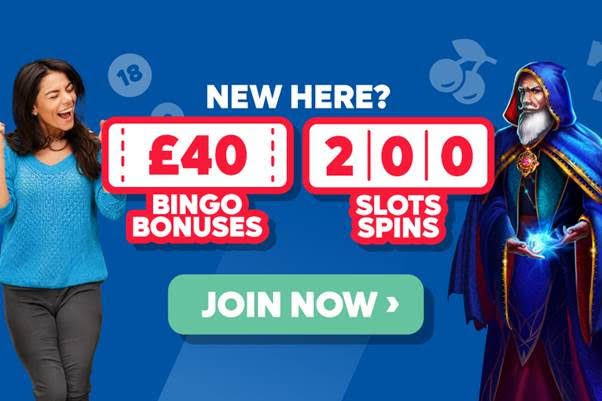 Welcome Offer
The Buzz Bingo Welcome Offer is a combined Bingo and/or Slots offer.
You can get both the £40 Bingo bonus, and the 200 Spins, when you deposit £10.
In order to qualify for both parts of the offer you need to stake £10 on bingo and £10 on slots. If you don't you will only trigger one part of the offer.
The £40 Bingo Bonus part of the offer is made up of a £30 bingo bonus (4x wagering  requirement) and a £10 Club voucher.
If you then go on to stake £10 on slots, you will get 200 x 10p spins on Fire Blaze™ Blue Wizard Megaways™ (20x wagering requirement).
There is a £5 minimum withdrawal and you need to use winnings in cash balance/further deposit to claim both.
As always, there are lots of T&Cs to read through, and it's worth taking a peek at these before you sign up.
Promotions
Buzz Bingo is the "official gaming partner" of The Voice, because this is 2021 (still applies in 2022), and apparently every club, show, and bankable brand needs a long list of partners. Then again, in a world where a leading football club can have an "official tyre partner" and an "official electrical styling partner", Buzz Bingo's association isn't all that strange.
It actually makes for some interesting promotions and games based around The Voice. In The Voice Bingo, you try to turn the chairs as you mark your numbers and play for the game's jackpot.
Slots and Bingo Room
The Voice Bingo isn't the only bingo game based on a popular TV show. Deal or No Deal is also here and is arguably the better and more familiar option.
There are 10 different bingo rooms and these host a variety of games. If you click the Bingo tab and select "Upcoming Games", you'll see a list of a dozen games or so that are due to begin within the next few minutes. Ticket prices range from just a few pennies up to £0.80 and thanks to The Voice UK (exclusive to Buzz Bingo), it's possible to win a £5,000 jackpot.
The slots section has a few exclusive titles, including Vegas Golden Ticket and The Snowman, and you can filter them by Megaways, Slingo, Featured, New, Jackpot, and more.
One of my favourite things about Buzz Bingo is the tournaments section. Real money slot tournaments often favour those who spend more. They reward points based on the size of your stake, which means the biggest prizes always go to the highest rollers. At Buzz Bingo, there are daily tournaments that focus on the size of your win relative to the size of your stake, essentially giving everyone an equal chance of success.
You'll scoop a £100 prize if you finish at the top of the leaderboard after taking your allotted spins, and there are also cash prizes and spins available for players who finish as far down as 100th.
Depositing and Withdrawing
Buzz Bingo has a minimum deposit and withdrawal of £5 and it accepts payments via Visa, Mastercard, Maestro, Paysafecard, PayPal, and Apple Pay. And it actually does accept these payments. In the past, I've complained about sites stating one thing and then doing another, as well as sites like Rainbow Riches Casino that seem to contradict themselves from one sentence to the next, but there are no such issues here.
Customer Support
In 2020, Buzz Bingo was awarded the "Best Live Chat Team" award from WhichBingo. Its customer support has also received a lot of praise elsewhere, and it should be noted that it's one of the few major bingo brands that still have a working telephone number.
There is one minor issue, though—you can only use Live Chat if you're a member. I understand why they do this. I run an online business myself and I know that if you give non-members the option to contact you, 45% of queries will ask you to repeat information that's already on your site, 45% will spam you for services that you don't need or can't use, and most of the remaining customers will click the button without realizing it and then panic when you start speaking to them.
But there are systems in place to deal with all of that and to ensure that you get (mostly) genuine requests. After all, even if you ignore the fact that it makes life harder for reviewers like me, as well as people who encounter a genuine issue when joining, what about all the account holders who suddenly can't log in because of an account issue? They now have to find time to make a phone call or wait for an email reply.
In fact, therein lies another issue, because when you email them, you're expected to include your membership number, name, date of birth, address, and contact number. If I'm asking a basic question, I now have to write a bloody novel just to get an answer.
Don't get me wrong, the customer support is friendly, quick, and available from Monday to Sunday, but it could be better.
Buzz Bingo Review Summary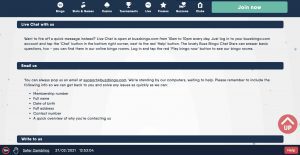 If you use a laptop or a desktop, I want you to do me a favour.
The next time you're on the Buzz Bingo website, click on the Terms and Conditions, Contact Us page, or any other information-dense page, and tell me what you think.
Maybe it's me. Maybe I'm weird. But I absolutely hate those annoying little stars in the background. They are tiny little specks that often cover the text displayed on the screen. I'm constantly fighting the urge to brush or blow them away, and it puts me on edge way more than it should.
On the plus side, it's really the only thing that annoys me about this brand. Sure, the customer support options could be more accessible to non-members, but the fact that I'm highlighting such minor issues is proof that there is nothing major to worry about.
It's hard not to give Buzz Bingo the full 5 out of 5 stars. I mean, I'm a little concerned how a massive brand like this could spend £40 million on an overhaul and think that "speckled mess" is a good choice of theme for its content pages, but I'm willing to forgive this minor oversight.
Pros

Generous Bonuses
Established Brand
Real Money Tournaments
Exclusive Games
Bingo and Slots
Cons

Members-Only Live Chat
At a Glance
Name: Formerly Gala Bingo
Reach: Owns Over 90 Bingo Clubs
Renovation: Underwent a £40 Million Rebrand in 2018
Licence Holder:
Buzz Group Limited
Licence Number:
2355
There are no reviews yet. Be the first one to write one.