Britain Play is a distinctively British slots site, by which I don't mean that it moans about the weather and then asks if you want a cuppa. It uses the London skyline as a background image and displays the Union Jack with the sort of passion and frequency typically reserved for your racist uncle's Facebook profile.
Using a blue, red, and white colour scheme, Britain Play is not actually visually offensive, but it's not really all that interesting, either. It's to be expected, as the site is owned by Jumpman Gaming, a brand that I love but one that tends to produce very samey-designs.
Of course, like all Jumpman sites, once you get past the initial landing pages and aesthetics, you're ushered into a member's area that will look even more familiar to Jumpman Gaming members.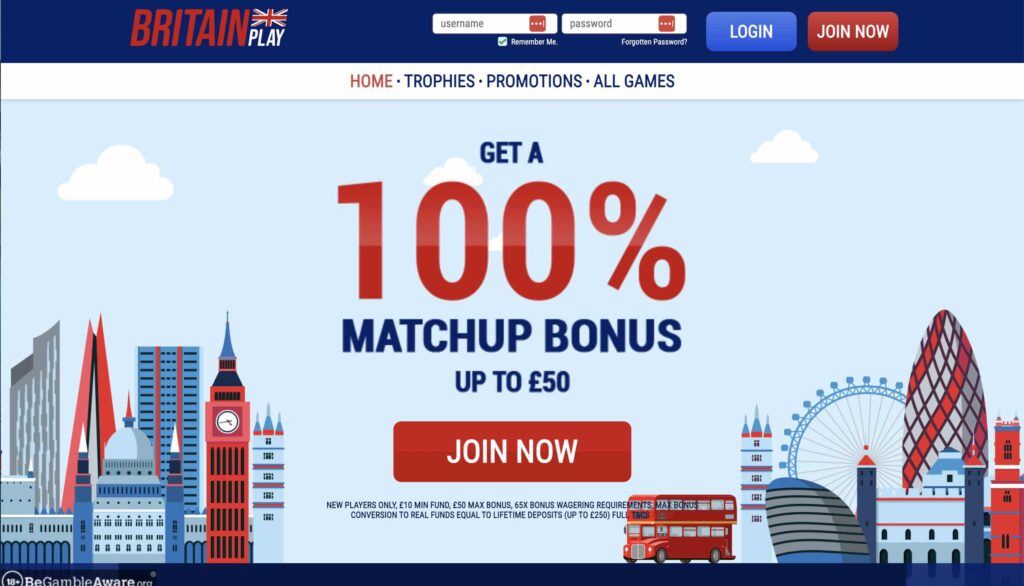 Welcome Offer and Other Promotions
As a new Britain Play member you will be given a 100% Matchup bonus, when you make a deposit of £10 or more.
You'll need to clear a wagering requirement of 65x. That's huge, and it's made even more deflating by the inclusion of a max conversion equal to your total lifetime deposits.
All things considered, the Britain Play Welcome Bonus is not as generous as it initially seems, but the same is true for all Jumpman bonuses and that's not really what makes this operator unique.
The loyalty bonuses are where these casinos shine.
There are monthly giveaways, reload promotions, birthday prizes, and even vouchers that go to the biggest winner during a fixed period.
These bonuses give you all the incentive you need to stick around and stay here for the long haul.
On top of all these offers, Britain Play also has a loyalty program. It's based on a series of challenges and you'll earn points as you complete them. When you advance through the levels of this round, you'll earn additional spins of the Mega Reel, and as your lifetime deposits will have likely increased by this point, the spins should be more valuable.
Slots and Other Games
It's hard to criticize the Britain Play gaming selection. There are bonus slots, video slots, video poker games, progressive jackpot slots, and Live Casino games. And that's just the casino side of things, as Britain Play also has several bingo rooms open to players of all levels.
You can play for just a few pence and win hundreds and even thousands of pounds. These bingo rooms connect through the entire Jumpman network, so there are always plenty of players in the rooms and this ensures the pots are high and the chat rooms are busy.
Compatibility is not an issue here. Jumpman Gaming has had years and countless casino iterations to improve its software, so it works well across all platforms.
Depositing and Withdrawing
There is one Jumpman Gaming feature that annoys me more than any other. It's one you will find on all sites in their network, including Britain Play. This is a word-for-word quote: "All withdrawals are subject to a £2.50 transaction fee. For example, if you withdraw £100 you will receive £97.50."
Losing £2.50 from a £100 withdrawal might not sound like much, but you'll pay the same £2.50 if you withdraw £50 or £20. In fact, the minimum withdrawal is £10, which means you could lose 25% of your withdrawal to a fee.
That's just not acceptable in this day and age.
Jumpman Gaming withdrawal speeds are also much slower than they should be and the pending period can stretch to 3 days. The main issue, however, is definitely the fee. I've complained about it dozens of times and in most Jumpman Gaming reviews, and I'm sure that it annoys most other players, as well.
The fact that it's still there after all that means it's probably not going away anytime soon.
Britain Play Review Summary
Britain Play is a simple but solid Jumpman Gaming casino that uses a colour scheme reminiscent of the Union Jack and a backdrop of a London skyline. Other than the name, these are really the only things that differentiate Britain Play from other Jumpman Gaming websites.
But as I have noted many times before, it's okay to be formulaic if the formula is solid, and that's definitely the case with Jumpman.
Whether this is your first Jumpman Gaming casino and you just really like the aesthetic, or you have played countless Jumpman sites and want another spin of the Mega Reel, it's worth signing up.
And if it is your first Jumpman site, be sure to check Spy Slots, Lights! Camera! Bingo!, and Bingo Games and Slot games, if you fancy some Jumpman Gaming free spins.
Pros

Lots of Loyalty Offers
Great Slots
Jackpot Games
Bingo Games
Mobile-Friendly
Cons

Withdrawal Charge
Restrictive Welcome Bonus Terms
At a Glance
Owner: Jumpman Gaming Website
Platforms: Mobile and Desktop
Games: Slots and Bingo
Licence Holder:
Jumpman Gaming Limited
Licence Number:
39175
There are no reviews yet. Be the first one to write one.