In the days when domains actually improved search rankings (before people ruined it with 100-character keyword-heavy domains), Jackpot.com would have been king. Back then, it was a sweepstakes site that flew in the face of modern gambling rules by promising "one spin will change your life". Today, it's a regulated lottery site run by Lottomatrix Operations, a Maltese company that positions itself as a lottery syndicate site.
Confused? Well, you're not alone. I was 100% expecting a site devoted to Mega Moolah/Jackpot King, and that's definitely not what I got. In this review, I'll take a closer look at Jackpot.com and see what it's all about.
What is Jackpot.com?
When you first visit Jackpot.com, it will detect your location and ask you to visit the UK subdomain. The site is a little different from what you might be used to, but there are some similarities.
First, the lotteries.
Jackpot.com offers markets on lotteries from all over the world, but rather than buying tickets, you're betting on outcomes. You can also join syndicates; whereby multiple players pool their tickets and then share the prizes if and when they win. It's like an online version of a workplace lottery syndicate, only without the endless disputes over who has paid and who's entitled to the winnings.
The site is insured against all bets, so it can pay out if you win, even if you scoop the grand prize.
You might be wondering why you shouldn't just buy lottery tickets from your local newsagents. You can even buy them online from the official National Lottery website. Well, that makes sense if you're playing Euro Millions, Lotto, and other games available in the UK, but it's a little more complicated for international lotteries like Powerball and Mega Millions.
You won't find tickets to these lotteries in your local newsagents, and if you're eager to play them, sites like Jackpot.com could be the solution.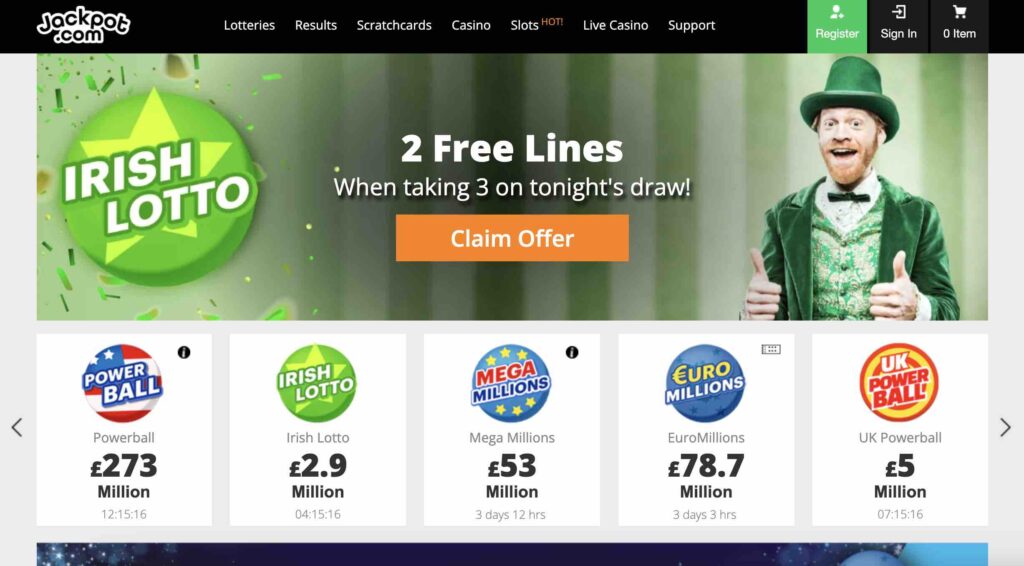 Is Jackpot.com Cheaper?
Jackpot.com is not a ticket reseller. Unlike your local newsagent, it's not offering tickets on behalf of official providers and then collecting a small share. It's essentially providing them as part of a betting service, so it charges a premium. 
At the time of writing, Jackpot.com offers two Lucky Dips for Euro Millions at a cost of £7. However, you can buy actual tickets to these lotteries for just £2.50 each. Arguably, the results would be the same if you won, but I'm sure that most players would prefer to own official tickets, so it's hard to imagine why you'd opt to pay that £7.
2 Mega Millions "tickets" are available for £9.50. In the US, you can pick up a ticket for $2, so it's cheaper to buy 4 official tickets than it is to place 2 Mega Millions bets. But of course, that only applies if you live in the US, and we don't.
Jackpot.com Bonuses
As far as bonuses are concerned, there isn't much on offer at Jackpot.com. In fact, there are no welcome promotions active on the site at the time of writing. There are Drops & Wins promotions, and I expect that the site will offer occasional giveaways and other network promotions from time to time, but it doesn't have a traditional welcome bonus.
If that's what you're looking for, check out Heart Bingo, Dream Bingo, Mad Slots, or the countless other bonus-heavy casinos and bingo sites I have reviewed.
Slots and Other Games
Jackpot.com is not just a lottery site. It also has a small selection of slot machines and table games. These games come from providers like Red Tiger Gaming, Pragmatic Play, Betixon, Booming Games, iSoftBet, and Eyecon. There are a few jackpot games, but it's not as much of a theme as you might expect.
On the table games side of things, Jackpot.com has a small selection of blackjack and roulette games, as well as live casino titles…and that's about it. I couldn't find much in the way of Megaways or 7-figure progressive jackpots, and the selection pales in comparison to Foxy Games and other highly-rated casinos.
Banking Options
There are no fees for any deposits or withdrawals on Jackpot.com, and the site accepts methods such as debit cards, PayPal, MuchBetter, Paysafecard, Trustly, and Neosurf. Withdrawals usually take just a couple of days to process.
There is one issue though: the withdrawal cap. You are limited to a maximum withdrawal of £1,000 for all payment methods. It's a very small amount for a site that gives you access to lotteries with 8 and even 9-figure jackpots.
Verdict: Jackpot.com Review
Although I have never used "lottery betting" websites before, I used to write for one. I never actually played there, but I always liked the idea, especially considering Powerball has been known to surpass 2 billion dollars and we generally don't have access in the UK. I have also placed a few wagers on the Irish Lottery on sites like bet365, and I suppose it's much the same idea.
But if I am comparing Jackpot.com to top casinos and bingo rooms, it's very disappointing. The gaming selection is limited and it doesn't offer much in the way of promotions. I'm sure the margins on lotteries aren't as high as slots and table games, but I would still expect some free tickets, free spins, or something else to lure new players.
Without that, there's not much incentive to sign up and play slots, and it's all about the lotteries, which can be very expensive.
Pros

Good Selection of Lottery Games
Huge Lottery Jackpots
Lottery Syndicates
Selection of Slots
Table Games and Live Casino Games
Cons

Pricey Tickets (for UK/EU lotteries)
Limited Gaming Selection
Meagre Bonus Offering
Low Withdrawal Limits
There are no reviews yet. Be the first one to write one.