Why has Olivia Attwood left the Jungle?
Just 24 hours after arrival, it's been announced that Olivia Attwood has left the I'm a Celebrity jungle. We're now quite sure what's happened, but ITV has made a pretty vague announcement citing medical reasons, as below:
"As a precautionary measure, Olivia needed to leave the jungle to undergo some medical checks. Unfortunately, the medical team has advised it is not safe for Olivia to return to camp as there needs to be further investigation. She has been absolutely brilliant and she'll be very much missed on the show."
Anyone who watched the first episode on Sunday evening (6th November) will have seen Olivia pal up with Chris Moyles (he's changed, hasn't he!) for a 'VIP' dinner before jumping from a helicopter to enter the jungle.
The Bingo Paradise team is sad to see Olivia leave, she was our favourite to win and this was affirmed by the fact that she had been voted 'VIP' (Very Isolated Persons!) in the first episode by the public.
Oliva's first challenge involved putting her hand into a small wall opening filled with worms, to unscrew pipes to stop water flow into chambers that were holding Boy George and Chris Moyles.
Whatever the specific reasons are for her departure, we wish her well.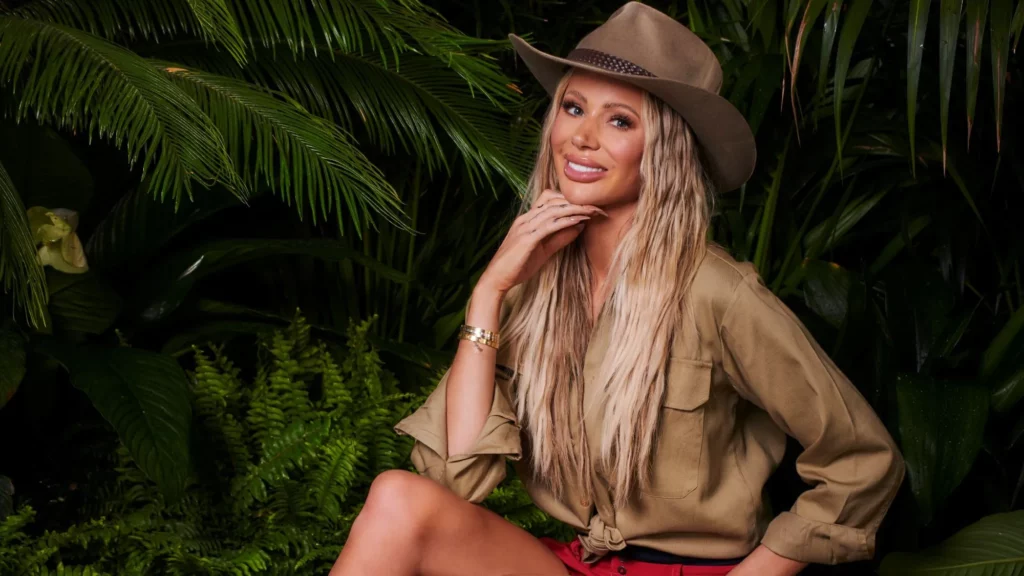 Tombola Bingo The Shows Official Sponsor
For a number of years now, I'm a Celebrity has been backed by Tombola.
'Britain's Favourite Bingo Site', a self-proclaimed title that we don't wish to dispute, really goes to town with their sponsorship of the show.
As such, if you take a look at their site, you can expect to find specially created 'I'm a Celebrity' themed games which you can play, there is of course no need for any Witchetty Grub meals, or jumping out of helicopters…Phew!
In addition to this, throughout the series, Tombola is running numerous competitions on its site and social media channels where hundreds of prizes can be won! The following caught our attention:
*Update:Competitions Now Closed*
Tombola Bugs on TV
The #Tombolabugsontv competition on their Facebook page will run over seven different nights and over £8,000 will be won!
On every Friday and Sunday night from (6th-27th November 2022) each time the Tombola bugs are in an ad break, Tombola will share a corresponding image of the ad on their Facebook page.
You have to be quick and comment #tombolabugsontv and your username on the post within 2 mins before the post closes.
If you are the lucky winner £100 in real money will be credited to the last debit card used on your Tombola account*
*Accounts will be credited within 72 hours of winners being drawn. Full T&Cs apply, check the Tombola website for further info.
The Big Bug Ballot
Fancy a £500 Love2Shop voucher? Then head over to The Big Bug Ballot on Tombola's Instagram page throughout this series, where they are six vouchers up for grabs!
To be in with a chance of winning simply answer the Chat Moderators' questions about bugs! 🐛
If you don't manage to bag (or bug!) the grand prize, there are also 25x £5 Bonus money prizes in each completion too.
The Big Ballot will run every Tuesday and Thursday during the series, from 10am. Make sure to check back on Tombola's Instagram the following day where the answers will be revealed.
There's a few other bits and pieces too…  These are:
The On-site Live Quiz – 9th – 23rd November 2022
Facebook Live Quiz – 12th – 26th November 2022
Win a takeaway for the final – 26th November 2022
Make sure to check out the Full T&Cs before taking part in any competition.