The Tombola website proudly declares that it is "Britain's biggest bingo site". Initially, I was sceptical about that claim and I wrote about my scepticism here. But then Tombola appeared with the receipts. It seems that not only is it the biggest bingo site in the UK, but it far eclipses all others, with more traffic than the next 3 biggest sites combined.
This is a big brand, needless to say, and it's one that offers a number of bingo games and casino games to players across the United Kingdom. There are some interesting bonuses to collect, as well. But how does this brand compare to the likes of Foxy Bingo and Sun Bingo? It might be the biggest bingo site, but is it the best?
Welcome Offer
Tombola Bingo promises all new players that they can 'deposit £20 and play with £40'.
There are some limitations and restrictions, as you would expect, but it's still a fairly generous bonus.
It's basically a 100% deposit bonus.
If you deposit £10, you'll get a bonus of £10; if you deposit £25, you'll get a £25 bonus. The maximum bonus from this offer is £50. The offer only applies to new players and while the bonus funds cannot be withdrawn, all winnings can.
Your real money will be staked before your bonus funds, and you can use these funds to play most games, with the exception of Tombola Roulette.
There are no traditional wagering requirements or winnings caps. The terms and conditions don't even mention a time limit. It's surprising, but intriguing, nonetheless.
Please note the following significant terms which apply to the above offer:
Deposit from £10 and get a 100% bonus match up to £50. First deposit only. Any winnings can be withdrawn. Bonus money cannot be withdrawn. Full T&Cs Apply Here. 
Other Bonuses and Promotions
Just because you have finished with the Welcome Offer doesn't mean you need to leave in search of a new site and a new offer. Tombola keeps its active members entertained with a regular supply of monthly promotions.
These include promotions that offer guaranteed bingo jackpots, giveaways with huge prizes, reload bonuses, free bingo games, and more.
There is also a refer-a-friend bonus where you can send some free bonus funds to your friends and get credits when they sign up and use them. Please note below the significant terms that apply to the 'Playmates' promotion:
*£20 bonus money when your playmate deposits and spends £20 real money. Bonus money valid on all games except for tombola Roulette. Winnings can be withdrawn immediately. Bonus money can not be withdrawn.Full T&Cs Apply Here.
The Layout and Theme
I used to hate the design of Tombola.
In the first iteration of this review, I complained that the site was poorly designed, dated, and not worthy of calling itself the UK's biggest or best. In fact, to be specific, I said "Tombola is about as fresh, interesting, and exciting as the avocado bathroom suite in your great aunt's house."
As an example of what it used to be like (more on that below), here are a couple of images I snapped when this review first went live. They were both snapped on desktop, and they both look like they are in desperate need of updating. The clickable image on the second picture is heavily pixelated—that's not the screenshot, it's how it looked on the site.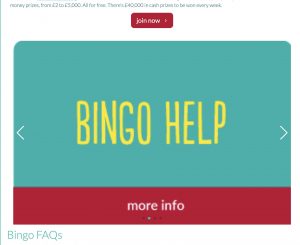 In that review, I also noted that Flutter Entertainment had recently acquired the site and might work their magic. As it turns out, I was right, and I'm happy they did.
They invested a lot of time and money into the site to bring it up to scratch.
As you can see from the image below, the colour scheme is the same and they've maintained the same vibe, which is understandable (lest they incur the wrath of a million members who are so familiar with the original site they don't realise how bad it is). But it's much more polished and refined. There isn't a hair out of place, and that's what you'd expect from a Flutter site. It's also what you'd expect from a site that attracts more players than Paddy Power and Sky Bingo combined.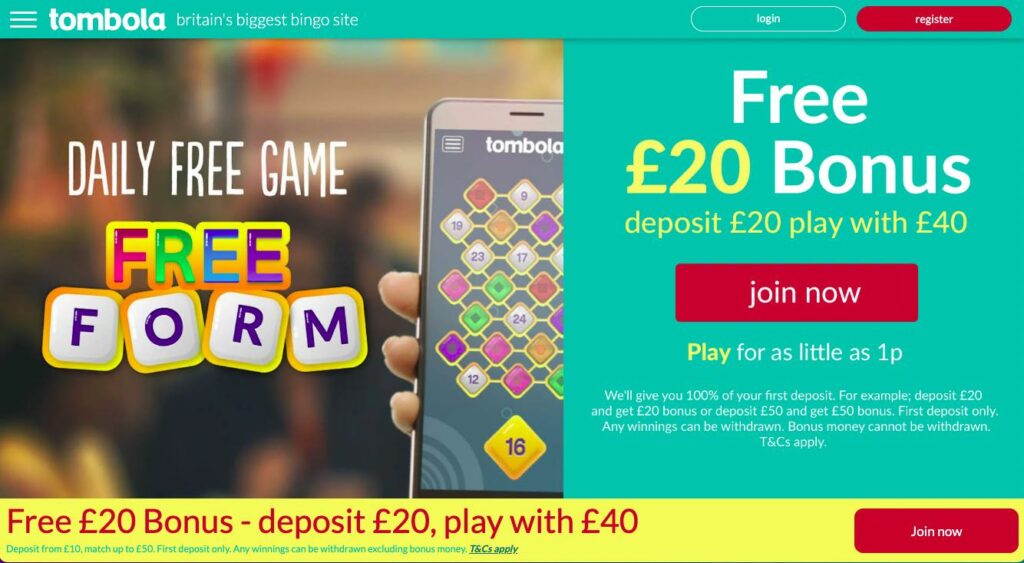 It's like when I first wore glasses after insisting I didn't need them for 5 years (I did). My first words were, "I can actually see blades of grass", as if my world had been given a HD upgrade. Tombola looks the same, but it's no longer just an amorphous blob that barely resembles a bingo site.
Bingo Games and More
If you've had your fill of Slingo games and Jumpman Gaming bingo rooms, you'll be glad to know that everything on Tombola and on Tombola Arcade (the slots orientated sister site) is completely unique to the brand. It makes for a refreshing change in an industry that tends to repeat and recycle.
Tombola's games include variations of 75-ball, 80-ball, and 90-ball bingo, as well as speed bingo and mini bingo. You can play from as little as 1 pence per ticket and some of these games have jackpots in the tens of thousands of pounds.
Paper is a great example of what this brand has to offer. Not only can you play from as little as 1 pence, but you can win jackpots of up to £10,000!
Tombola also includes games that blend classic casino games with bingo, such as Tombola Roulette.
The bingo selection is one of the best and most unique out there, but away from bingo, there's not much else going on. If you're looking for slots and Live Casino games, this is not the site for you.
Tombola Review Summary
I love the fact that Tombola has actually sought to improve over the years. It was the biggest site by a country mile. It could have just sacked its developers, called it a day, and then let the players do their thing. Let's be honest, that's what a lot of market leaders have done. But it actually sought to improve, to right the wrongs, and to please grumpy reviewers like me.
It also has one of the better bonuses that I have encountered and offers a good selection of games. On top of that, it has several 24/7 support options, including Live Chat and a phone number.
What's not to like?
Pros

Huge Welcome Bonus
Established Bingo Brand
Bingo Games and Casino Games
Several Support Options
Established Online Gambling Brand
Cons

Dated Theme and Layout
At a Glance
Support: Live Chat, [email protected]
Phone Number: 0800 29 888 73
Licenses: United Kingdom and Gibraltar
Headquarters: Sunny Sunderland!
Licence Holder:
Tombola (International) Plc
Licence Number:
38613
There are no reviews yet. Be the first one to write one.