If Hollywood is to be believed, Robin Hood was a stocking-clad ladies' man with a fake English accent and a contempt for authority. He has been depicted in many films and TV shows, and these stories were told after countless centuries of ballads, books, and word-of-mouth tales.
These many stories usually agree on one thing: He robbed from the rich and gave to the poor. Based on that sentiment alone, you can sort of see what Robin Hood Bingo was aiming for, but if you think about it too much (which I definitely did) then it begins to fall apart.
Are they the rich ones, and if so, does that make me poor and/or a thief? And if they are Robin Hood, does that make me the Sheriff of Nottingham or Maid Marian?
In any case, and before I go off on a tangent and start quoting lines from Prince of Thieves: Robin Hood Bingo's services are operated by Broadway Gaming Ireland DF Limited, for UK players and are licensed by the UKGC.
It also has an eCOGRA certificate to provide an extra layer of security and promises a "jolly bingo adventure" for all. Ironically, it's hard to read those words without picturing an American actor attempting a stereotypical British accent.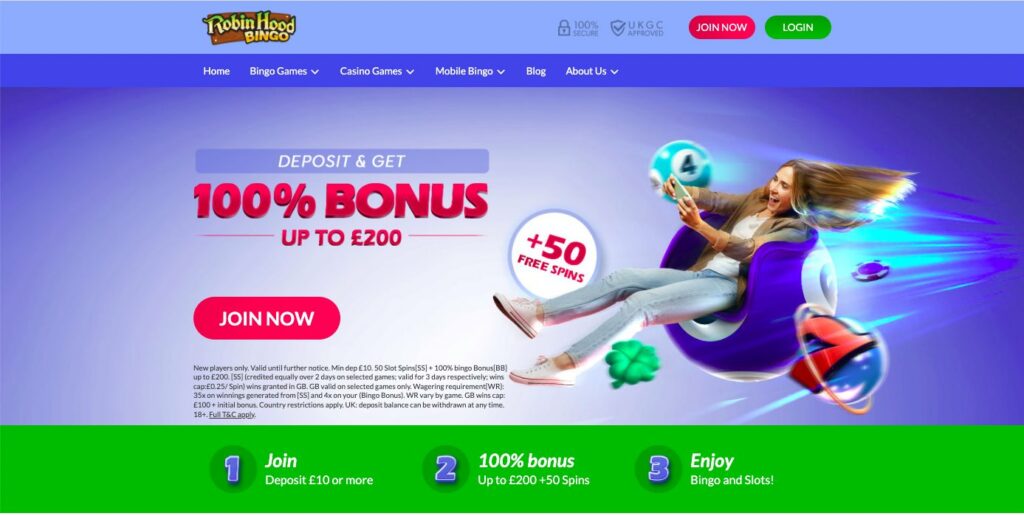 Welcome Offer
New player bingo bonuses tend to be a little disappointing when compared to online casino offers, but Robin Hood Bingo is definitely an exception to that rule. It offers a 100% Bingo Bonus and 50 Free Spins to players who deposit just £10.
It's actually a 100% matched deposit offer and it's capped at £200, so if you deposit £20, you'll get the full whack.
The bonus credits can be used on bingo games and there is a wagering requirement of just 4x for this bonus and 35x for any funds won through the Free Spins.
Promotions
Welcome Bonus aside, Robin Hood Bingo isn't very forthcoming with the offers. In fact, there are none of these displayed to prospective players and your My Offers section will be disabled until you validate your account.
Once you do, you'll be given access to a few basic bingo bonuses and promotions, including cheap tickets, guaranteed pots, jackpots, and more. They change all of the time and some of them may be user-specific, so just make sure you check the offers section of your account.
Slots and Bingo Rooms
Robin Hood Bingo is powered by the Dragonfish software, the same one used at sites like 888Ladies. It looks pretty poor when you don't have an account, but as soon as you sign up, the aesthetic changes and things get a little easier and better looking.
I do have an issue with this software, however. The bingo and slot games are shown 6 to a page and to browse more, you need to click a little arrow as opposed to simply scrolling. It's better on mobile, but it's annoying on desktop, especially when you're used to scrolling through dozens of games with a single swipe.
There are live bingo games, special jackpot games, and even free bingo rooms. And that's before you consider the slots, which are just as plentiful and varied, with titles from the likes of NetEnt, IGT, and Big Time Gaming.
Depositing and Withdrawing
Robin Hood Bingo claims to accept PayPal, but I created an account and was only offered debit cards as a deposit method. I tried contacting them to clarify this issue, but it didn't work out as well as it could or should have (see Customer Support section below).
However, I have been here before, so I have a good idea of what's happening. Some sites will only let you use PayPal when you have made an initial deposit using a debit card. It's a verification thing, and while frustrating, it's something I have seen on many other sites, including Rainbow Riches Casino.
Customer Support
Robin Hood Bingo doesn't have a Live Chat option, which is rather unusual for a bingo site. It does have an email address, but it's the same one used for dozens of other 888 sites. It also has a phone number, and that too is used elsewhere.
That's not a bad thing, or rather it shouldn't be, but Robin Hood Bingo manages to mess it up completely.
I created an account and emailed them to ask a basic question about PayPal. The email was [email protected], which was a little concerning, as it usually makes it difficult to even get across who you are and where you're playing, let alone what issue you have.
I gave the site the benefit of the doubt when I noticed that the subject line auto-filled with the site name, my account name, and even my platform.
But the response was to tell me that they couldn't find my details and that before they could answer a simple non-member-related question, I needed to tell them my life story.
I understand that the support team is just following instructions, but if someone asks, "Do you accept PayPal?" from what is clearly an active member account, your response shouldn't be to ask them 10 questions and require an autobiography before you reply.
I tried telling them this, insisting that I just needed a simple non-account-related response, even though I did, in fact, have an account.
In reply, they reiterated that they cannot tell me anything until I confirm my identity. And in the second reply, they even got the name of the site wrong, asking me for my Moon Bingo login details, even though the Subject Line clearly stated, "Robin Hood Bingo."
It was also a different person the second time around and they did what every support team member seems to do in this situation: Ignore all previous messages and repeat the same thing that the first person said.
It's a perfect example of why this system doesn't work and why you need a dedicated, site-specific service that is open to non-members, as well as verified ones.
To access customer support from your account, you'll need to click the Up/Down arrow next to your name, scroll to the bottom, and select "Useful Links". It's the third link off the bottom. It's somewhat hidden away, and after using it myself, I'm not surprised.
To paraphrase an old saying, "If it ain't broke, don't fix it, and if it is broken, just hide it away and hope that no one sees it or tries to use it."
Robin Hood Bingo Review Summary
I feel like Robin Hood Bingo missed a trick. For a site named for a legendary figure, there should have been more relevant imagery and texts. I noticed a few mentions of "Merry Men", one or two green hoods and…that's it.
On top of this, I absolutely hated the customer support. It was quick, with replies arriving in under 10 minutes, but it was also poorly executed and irritating.
For these reasons, Robin Hood Bingo gets 3/5 from me. The software is good, the promotions are decent, but my experience began with disappointment, grew into frustration, and by the time I started enjoying myself, I was ready to call it quits and head for greener pastures.
Pros

Safe and Secure
Good Bingo Software
Lots of Bingo Games
Big Jackpots
Big Welcome Bonus
Cons

Lacks Originality
No Live Chat
Lengthy withdrawal times
At a Glance
Launched: 2012 - Part of the Broadway Gaming Ireland DF Limited Group.
Software: Dragonfish
Support: [email protected] or 0808-238-9836
Licence Holder:
Broadway Gaming Ireland DF Limited,
Licence Number:
58267
There are no reviews yet. Be the first one to write one.