It's time to grab your baggy jeans, chokers, and kagoules, as we're heading back to the glory days of "Madchester" with The Big Bez 'Bingo' Brunch. It's a boozy bottomless brunch held at Freight Island, an open-air food hall on Baring Street.
Iconic raver and maraca man Bez is due to host the event, scheduled for Saturday, July 1st from noon to 2:30 pm.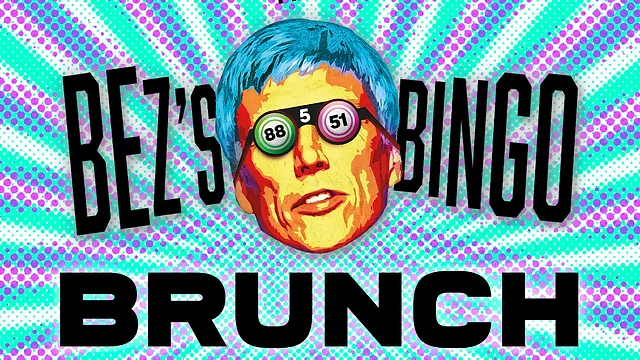 What to Expect
In addition to great street food and plenty of drinks, the Big Brunch will host classic songs from the 1990s, an era when bands like Happy Mondays ruled the airways. There will be a meet and greet with Bez, as well as a number of singers, DJs, and comedians to keep you entertained for the duration. You can even expect dancers and games of bingo!
All guests are encouraged to dance along and let loose, creating an atmosphere reminiscent of a 1990s gig.
Ticketholders will be given bottomless booze for 90 minutes (the event lasts a little longer than that), along with access to all of the island's food stalls. There are curries, sandwiches, sweet treats, snacks, and more, with options for vegetarians, vegans, and those on a gluten-free diet.
Freight Island
If you have been to Freight Island before, you'll have a good idea of what to expect. If not, here's a quick rundown.
Freight Island is a multi-vendor food, drink, and entertainment hub. In addition to the Freight Island Bar, which serves a wealth of delicious cocktails and wines, and the Tap Room, which is stocked with craft beer, you'll find all of the following food options:
Burgerism: Described as "the most popular burger in Manchester", this top-notch burger joint serves a famous smashed burger that comes loaded with two smashed patties, cheese, Burgerism sauce, and all the usual trimmings stuffed into a brioche bun.
Smoking Coal: Take a bite out of slow-smoked meats, including pork bellies and beef briskets that have been cooked for up to 18 hours before being served with buns, poutine, and freshly made flatbreads.
Voodoo Ray's: First appearing in 2012, this New York-style pizza restaurant sells massive 22-inch pizzas topped with a variety of fresh ingredients.

 

Payal: Asian and Indian cuisine is on the menu here, with lots of curies, side dishes, and types of bread.
Typically, you don't need to book to visit Freight Island, but you'll need to have tickets if you want to join The Big Bez Brunch.
Visiting the Event
Tickets to The Big Bez Brunch cost just £35 for the Early Bird, £40 for the First Release, and £45 for the Final Release. Here are a few things to keep in mind:
There is a no-smoking policy active at the event
Only those over the age of 18 will be given access
Tickets cannot be exchanged or refunded
Late admission cannot always be guaranteed, so get there early
Freight Island is on Baring Street. Just punch "M1 2PY" into your phone and make sure you get there before 12 so you don't miss any of the action!