Bingo halls have been shut since the UK went into lockdown on January 4th. It's an industry that has been hit very hard, and while online bingo has softened the blow, the last 12+ months have been hard on owners, employees, and players alike.
Of course, we all have more important things to worry about than when the local bingo hall will finally open its doors, but in a world of increasing uncertainty and endless disappointment, it's nice to have small victories to look forward to.
With that said, when will bingo halls open in the United Kingdom? How long do we have to wait and what will the impact of the repeat lockdowns have on this industry?
When Will Bingo Halls Open?
On February 22nd, Boris Johnson announced plans for the reopening of many of the UK's biggest venues, suggesting a staggered approach that would see the country scramble back to its feet by the summer.
Outdoor sports facilities will be the first to open their doors post-lockdown. Golf courses, basketball courts, football pitches, and other such locations will dust off the cobwebs and get back to normal (or whatever passes for normal in the midst of a pandemic) by the end of March.
Those facilities are considered low risk. They are outdoors, where the risk of contagion is low, and it shouldn't prove too difficult to maintain the social distancing protocols that have been drummed into every man, woman, and child over the last year.
A couple of weeks later, on April 12th, we should see more outdoor entertainment and tourism venues open, including zoos and theme parks. Zoos in particular have struggled during the lockdown, with places like Chester Zoo, which does a lot of conservation work, said to have lost over £11 million because of the lockdown.
Unfortunately for bingo fans, bingo halls are not included in any of these categories, and likely won't reopen until May 17th, at which point most remaining indoor venues will follow suit.
The day that we can all drop by our local bingo hall to buy a few cards is also the day we can visit the cinema and theatre again; the day we can see friends without fear that a hug, kiss, or stray drop of spittle won't send us scrambling for the hazmat.
Will Bingo Survive?
There are far fewer bingo halls today than there were 10 years ago. We didn't need a pandemic and multiple lockdowns to send bingo halls into decline, as a move toward online bingo, along with the introduction of the smoking ban, did most of the work many years before.
In fact, the total number of UK bingo halls is the lowest it has been for several decades, even though bingo, on the whole, is more popular than it has been for an entire generation!
But what happens when the lockdown is over? Will all of those bingo halls have the funds needed to keep their doors open?
The answer, like so many tough questions posed over the last year, isn't all that obvious, but it might not be as bleak as you expect.
The vast majority of UK bingo halls are owned by major gambling brands, ones that have been keeping their coffers ticking over by investing in online bingo. They are massive companies with seemingly endless resources, and it won't take much for them to pool those resources, regroup, and get back to normality.
It will be bad news for the smaller independent brands, the ones who didn't make the switch to online bingo and likely don't have the resources to keep going, but as tragic as it will be to see them go, they are in the minority.
The real question here is not whether or not the pandemic will kill off major bingo halls, but whether it will cause them to shift more of their attention online. After all, it's surely a matter of time before those big brands start selling off some of their venues and investing more of their funds into creating new bingo sites as that seems to be where the money is.
These locations don't make as much money as they used to, and while the bulk of them will almost certainly open when life gets back to normal, they may not stay open for long.
It's a worrying time to be regular at one of these major venues and it's a terrifying time to be one of their employees, but it's a fear that is becoming all too common and one that the pandemic has instilled in billions of people worldwide.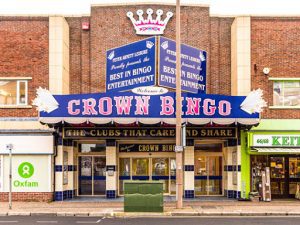 Summary: The Need for Bingo
Online bingo is the shot in the arm that the bingo industry needed. It is faster, easier, and more accessible, and as a result, the bingo sector has exploded over the last few years. But in 2020, online bingo wasn't just the better option, it was the only one.
When bingo halls were forced to shut their doors, many players took their hobby online, playing for fun (not for money) with friends and strangers; and even creating their own games of Zoom bingo.
But there are still those who yearn for the odd game with friends down the local bingo hall. Even for those who consider online bingo to be the better option, offline variants are still a good way to catch up with friends. Even if you're not there with the hope of calling 'bingo', you might be there to learn about Betty's neighbour from hell, John's arthritic cat, or Big Susie's perpetual struggle with the council.
Bingo fans will need to wait a little longer before they can catch-up with their friends and purchase a few cards, but the day will come eventually and, if all goes to plan, we'll be enjoying both offline and online bingo by the summer!
1. https://www.bbc.co.uk/news/uk-56158405
2. https://www.cheshire-live.co.uk/news/chester-cheshire-news/chester-zoo-relieved-prospective-reopening-19900359
3. https://www.statista.com/statistics/203432/bingo-gross-gaming-sales-in-the-uk