If you search for "Two Fat Ladies Bingo", you'll be greeted with angry tabloid headlines claiming that "snowflake millennials" are rewriting the bingo rulebook and forcing callers everywhere to swap "88, two fat ladies" for the nonsensical "88, Wills and Kate".
It's every Millennial-hating journalist's dream, and it's also (probably) utter nonsense. It's true that we're living in an enlightened age, but bingo calls are supposed to be risqué, and contrary to what the doomsayers want you to believe, we've yet to reach a point where players get offended on behalf of curvaceous digits.
The Two Fat Ladies bingo site (knocked down the rankings by countless tabloid fluff pieces) might be a little on the nose, but it's a name that's connected to one of the game's best-known sayings, so it makes sense.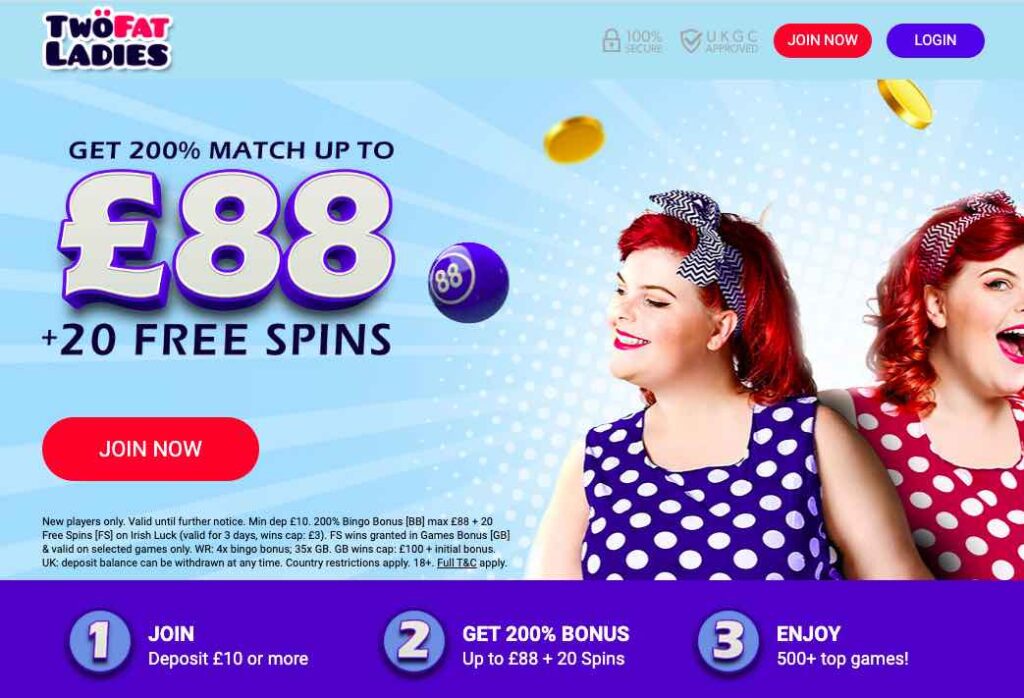 The Welcome Offer
Two Fat Ladies Bingo offers all new players a bonus of up to £88 and 20 Bonus Spins. It's a 200% matched bonus with a minimum deposit of £10 and it can be used on bingo games, with all winnings subject to a wagering requirement of 4x.
Any money that you win with the Bonus Spins will be converted to a games bonus and will then be subject to a wagering requirement of 35x.
Promotions
Unfortunately, the aforementioned Welcome Bonus seems to be the only one available at the time of writing. In fact, Two Fat Ladies doesn't have a traditional "Promotions" page, or any other pages for that matter.
It's pretty scant on the details and you won't learn much until you actually join. Once you do, you'll be given access to jackpots and other minor promotions.
In fact, the Two Fat Ladies Bingo site looks very simple and pretty dull. But don't worry, as things get more interesting when you join and have access to the account section.
From here, you can learn about the latest jackpots, use any vouchers you have collected, and check the latest promotions.
Games and Software Providers
Two Fat Ladies uses the Dragonfish platform, which is actually owned by the 888 Group. The result is an account screen that looks very familiar, is easy to navigate, and has plenty of games for you to choose from.
In many ways, it is a carbon copy of 888Ladies and a number of other sites. That's not a bad thing, however, and the same could be said for most sites in this industry. They are all based on just a handful of platforms and a lot of time and money is spent on making sure those platforms are intuitive, attractive, and easy to use.
The games are separated into two sections: Bingo and Slots. The former includes major jackpot games, TV games, and more, with Britain's Got Talent Bingo and Big Fat 10 being two of the best ones.
As for the Slots, these include categories like Daily Jackpots, Top Slots, Slingo, and Progressive, and the games are provided by developers like NetEnt, Scientific Games, Microgaming, IGT, and NextGen Gaming.
These are a little awkward to navigate on desktop. Slots are usually listed as thumbnails on a single page. You see several dozen on the screen at once, and when you scroll down, another dozen or so loads. Keep scrolling and you'll keep revealing more.
It's a format that works well and makes life easier for category-hopping, indecisive gamers like me.
On Two Fat Ladies, however, you get 6 thumbnails to a page and need to click the little arrow to move to the next page and load another 6. It's a minor thing, but it slows everything down and gets frustrating after a while.
Depositing and Withdrawing
Like many other UK bingo sites, Two Fat Ladies Bingo accepts PayPal but requires you to make an initial deposit using debit cards. It's a frustrating rule for players who don't like digging around for their debit cards (myself included) but there are many sites applying this rule.
Paysafecard and Apple Pay are listed as payment options as well, but as with PayPal, they can't be used for your first transaction.
You'll need to withdraw to the same method used to deposit, so your first withdrawal will also need to be made using a Visa or Mastercard.
Withdrawals take 2 days to process, and because you're forced to use a debit card, your first withdrawal may take between 3 and 5 business days to appear in your account.
On the plus side, you can withdraw as little as £5, and it's possible to withdraw less if it's your entire account balance. Just contact the customer support team to make this request.
It's rare to see such a low withdrawal requirement and it's even rarer for the site to be willing to make exceptions, so this is a big positive.
Two Fat Ladies Bingo Review Summary
At times, Two Fat Ladies Bingo looks like it's badly in need of an editor. In truth, the issues are minor, but we're talking about a major bingo site operated by one of the UK's biggest brands, so they shouldn't exist.
As an example, the main page has a bold blue header declaring "Over 600 Top Games", and right below this, it states that it has "500 games". It also repeatedly refers to itself as "an online bingo", such as in the description, "On our online bingo, the Two Fat Ladies have much more…"
It's a minor issue, but this lack of polish is ultimately what lets Two Fat Ladies down. It needs to be better, cleaner. More consideration should have been paid to the quality of the copy, the relevancy of the imagery, and the speed of the site, as it moves very slowly in places.
Still, these are relatively minor issues on the whole and Two Fat Ladies Bingo is a good site. It's not perfect, but with a little more effort it could have gotten pretty close.
Pros

PayPal Accepted
Powered by Dragonfish Software
Decent Gaming Selection
Cons

Disappointingly Unpolished
Slow Withdrawals
At a Glance
Useful to know: Operated by Broadway Gaming Ireland DF Limited
Support: [email protected] or 0800-901-2510
Licence Holder:
Broadway Gaming Ireland DF Limited
Licence Number:
58267
There are no reviews yet. Be the first one to write one.