Jackpotjoy is one of the flagship online casinos in the Gamesys portfolio. It's big, bold, full of offers, and fairly well known.
Jackpotjoy has won a few awards and attracted a lot of attention, partly because of its many TV ads. But how does this site compare to other highly-publicised gambling sites like Wink Slots and Foxy Bingo? Should you sign up for Jackpotjoy or are you better off spending your time and money elsewhere?
Welcome Offer
When you join Jackpotjoy for the first time, you'll be offered one of two bonuses.
If you're a slot fan, there's a 30 Free Spin bonus waiting for you. Just deposit £10 or more and you'll get 30 spins on the Double Bubble slot. The spins have a 1p coin size and the maximum number of lines are played.
There is no wagering requirement, which is good, but 30 Free Spins at such a limited coin size isn't going to do you many favours. Free is free, and for a £10 deposit, it's not a bad deal, but it's one that will only appeal to small stake players. If you're the sort of player who deposits £100 or more, you probably won't care about 30 low-limit spins.
If slots aren't your thing, Jackpotjoy also has a bingo bonus. As with similar bonuses on other Gamesys sites, it's often advertised as being an "up to £50 bingo bonus". But it actually gives you 50 free bingo tickets, so that figure is based on you using the tickets to play £1 games.
They can also be used to play 1p games, in which case the total bonus is worth just £0.50.
There are no wagering requirements here, either.
Daily Free Games are also available at Jackpotjoy. As long as you have made a deposit of at least £10, you can play these games. Just spin the reels and see what you can win. It's not the same as Free Spin or Free Bingo Tickets, but you can still collect a few prizes and payouts, and these can then be used to make real money wagers.
Slots and Bingo Games
The Jackpotjoy games room has one major downside and one major upside.
First, let's get the good news out of the way.
Jackpotjoy has video slots, jackpot slots, bonus slots, table games, bingo rooms, Slingo games, and a Live Casino. There's even a poker room, though it's not quite on par with what you can find at PokerStars.
It's a good mix, and one that covers a little bit of everything.
Now for the bad news: the gaming selection is very limited.
At the time of writing, the Jackpotjoy games room makes the following claim, "Choose from a wide selection of more than 100 casino slot games".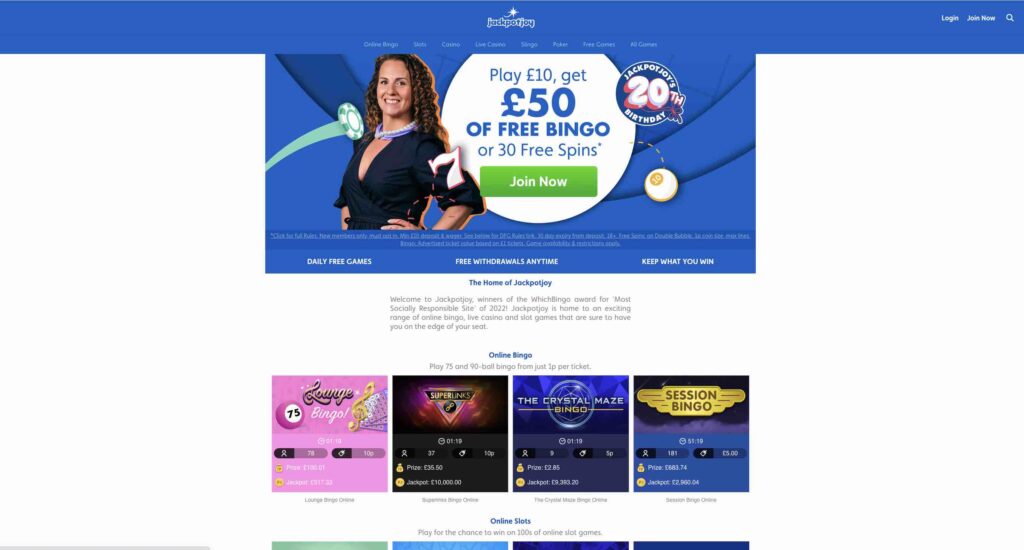 In a land-based casino, 100 slot games would be great. In an online casino, it's terrible.
On the same page, Jackpotjoy states that it has "over 300 slots". Of course, "over 100" can mean 300, just as it can mean 2,000 or 20,000, but I'm going to assume that this was a mistake. Based on what I can see, the 300 number is the more accurate one, but that's still a problem.
There are sites out there with more than 4,000 slots and the average is between 500 and 1,000. At just 100 (or 300) slots, Jackpotjoy falls seriously short of its competitors.
Of course, Jackpotjoy is not devoted entirely to casino slots. There are lots of other games to make up the numbers, but even when you include all of these, the selection is still very limited.
I have praised Intouch casinos in the past despite having just a few dozen games, but this is different. In Touch casinos use original and exclusive slots. They don't have the biggest selections, but they are unique.
With Jackpotjoy, you're getting slots that you know well and have no doubt played many times before. They're not original, they're not exclusive, and it's nothing you can't find everywhere else. That's what makes the small selection disappointing.
Jackpot Joy Review Summary
Jackpotjoy is clearly a popular casino and bingo site, and it deserves all of that popularity. It has a lot going for it, including a bonus that will appeal to casual bingo players and slot fans. The limited slot selection is very disappointing, though. I expected much more from such a well-known brand.
If I had to choose between a site like Jackpotjoy and one like Wink Slots or Foxy Bingo, I would always opt for the latter. These other sites are just as established, but the themes are better, the sites are cleaner, the bonuses are more diverse, and they have many more games.
That doesn't mean you should ignore Jackpotjoy, though. If you're looking for a new bonus and a trusted operator, give Jackpotjoy a go. If you want a site that you'll still be using years from now, one that will keep you busy with endless games and bonuses, keep searching.
Pros

Bingo Games and Slots
Trusted Brand
Fast Withdrawals
Bingo/Spin Welcome
Daily Free Games
Cons

Limited Loyalty Offers
Limited Slot Selection
At a Glance
Owner: Gamesys
Games: Slots and Bingo
Platform: Mobile and Desktop
Minimum Deposit : £10
Licence Holder:
Gamesys Operations Limited
Licence Number:
38905
There are no reviews yet. Be the first one to write one.