On hearing the name, Costa Bingo, my first thought was that Costa Coffee had launched its own bingo brand. I was half-expecting a flat white-themed bingo site complete with overpriced snacks that somehow manage to contain more calories than the entire McDonald's menu.
In actual fact, the casino has no connection to the famous coffee chain and borrows its name from the Spanish word for "Coast", à la Costa Del Sol. It's a beach holiday-themed bingo site complete with golden sand, turquoise waters, and coconut cocktails.
It's one of the many sites that was previously owned and operated by the 888 Group, an iGaming behemoth with its fingers in many pies. In fact, half of the UK's biggest bingo sites seem to be branded with those famous three digits, and that's a good thing, as 888 is one of the most respected, secure, and highly-rated brands in the industry.
Since June 2022, for UK players, Costa Bingo has been operated by Broadway Gaming Ireland DF Limited.
Costa Bingo claims to have the "biggest and brightest bingo community on the internet". I'm fairly sure that every other bingo site makes the same claim but as this one has been going since 2009 and has the backing of a genuinely massive brand, the claim has a little more credibility.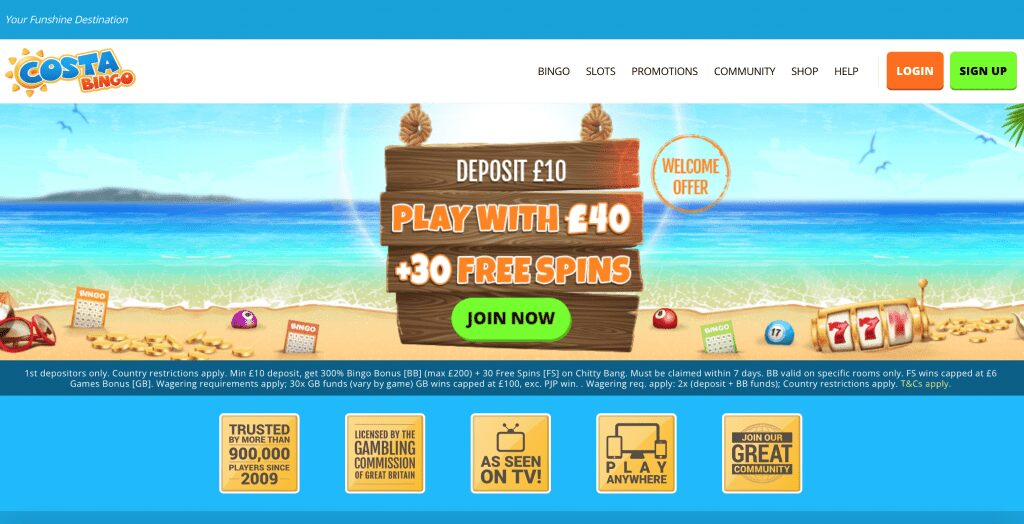 Welcome Offer
A 300% bingo bonus and 30 Free Spins awaits all new qualifying players at Costa Bingo. It's open to new players who deposit at least £10 and it's capped at £200, with a 2x wagering requirement.
If you Deposit £10 Get Bonus, for instance, you'll get £30 Bonus funds to play with £40 in addition to getting 30 Free Spins.
The Free Spins are limited to the Chitty Bang slot machine and there is a winnings cap of £6, it's good to note that Free Spins winnings are paid in real money after all Free Spins have been used and wagering requirements have been met. That should cover the basics, but do look at the bonus Terms and Conditions for more information.
Promotions
There are a few other promotions to look out for, but one of the main ones is the Loyalty Scheme, which rewards you every time you play. Each level is represented by a fruit, beginning with an Apple and advancing to a Lychee, and there are numerous awards to collect on the way.
For example, players who make it to the Lychee level are offered bingo credits, gaming credits, merchandise, and access to exclusive games and events.
Slots and Bingo Rooms
Costa Bingo promises "Bingo on the Beach" and "Slots in the Sun", with more of an emphasis on the former. You'll find free, exclusive, and jackpot bingo games, and these span both 75-Ball and 90-Ball varieties.
Many of the games have small daily jackpots of £10 to £50 and there are larger jackpots offered on occasion, as well. There were 41 different games available when I checked and the average ticket price was just £0.05.
The slots section spans over 130 games and includes a bunch of Jackpot and Megaways titles, with standout games including Beetlejuice Megaways, Rick and Morty Megaways, and the classic Rainbow Riches Sites.
Software and Site Issues
The Costa Bingo games room didn't run as smoothly as I would have liked or expected. There were a few niggling and annoying issues when I conducted my review, including a general sluggish pace that made for a frustrating experience.
The biggest issue, however, was that the site's links would freeze at random. I would be clicking through the many different tabs and everything would just stall. The cursor was still moving, my browser/computer hadn't crashed, but nothing was clickable or scrollable.
After 10 to 30 seconds, it would correct itself and return to normal. This happened 4 or 5 times over the course of half an hour. I checked multiple different sites at the same time, including several owned by 888 Group, and none of them had the same issue, suggesting that the site (and not my computer) was the cause of the problem.
I was reluctant to mention this considering it could have been an isolated incident, but after checking some user reviews, I realised that it was a common occurrence.
Just a few days before I conducted this review someone had complained of slow navigation and sluggish slots, even though they had high-speed internet. Costa Bingo actually responded to blame a minor technical issue which they claimed had been fixed, but as my experience shows, that's clearly not the case.
I'm very surprised that a site launched in 2009 and owned by one of the UK's biggest gambling brands would have server and functionality issues, but I can only report what I saw, and what I saw was lethargic and frustrating.
Depositing and Withdrawing
PayPal and Apple Pay are available to UK players at Costa Bingo and it also accepts Visa Debit, Paysafecard, Wire Transfers, and phone payments. You'll need to deposit at least £10 and the same minimum requirement applies to withdrawals.
Speaking of withdrawals, you will need to wait a few days before you collect, as there is a pending period of 2 business days, in addition to the usual processing time.
Bingo Review Summary
Costa Bingo calls itself, "Your Funshine Destination". It's not the most enticing or creative tagline in the world, but it made me cringe and roll my eyes at the same time, and that's gotta be worth something.
The casino is nearly a carbon copy of Dino Bingo, which is just as cringeworthy. In fact, not only does Dino Bingo display the same Ts & Cs, but it even refers players to a Costa Bingo email. These sites also feature the same Loyalty Program layout.
Not only has it been copied word for word, so much so that it doesn't make sense (the fruit-based levels are fitting for a coastal-themed bingo site, but less so for one based on dinosaurs) but they even copied across the same typo, referring to it as a "Loyalty Progrramme".
I'm nit-picking, I know, but it's that lack of polish and originality that means Costa Bingo falls a long way short of Mecca Bingo, Foxy Bingo, and other such sites.
Pros

Several Big Bonuses
Loyalty Scheme
Multiple Bingo Games
Lots of Slots
Cons

Not Very Unique
Needs a Polish
Sluggish at Times
At a Glance
Launched: 2009
Interesting facts: Part of the Broadway Gaming Ireland DF Limited, sister site to Dino Bingo
Support: 0808 238 9881, [email protected] or Live Chat
Licence Holder:
Broadway Gaming Ireland DF Limited
Licence Number:
58267
There are no reviews yet. Be the first one to write one.